The Grey Lady Music Lounge, Sunday 22nd January 2012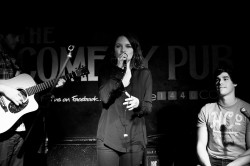 click to enlarge
Selling out many of London's best-known acoustic venues with Ben Hood on guitar and Rob Austen on Drums, Sarah Lillie has been named one of London's 'biggest up and coming artists'.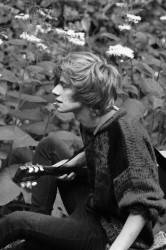 click to enlarge
Lou Rivers has been enchanting audiences with his acoustic style across the South east since his early teens. Now through time spent studying a Songwriting degree at the British Institute of Modern music, and the life experiences that came as a result, Lou has both broadened and honed his unique style.
Having taken a break from live performance to refine his songwriting, Lou is keen to return to the stages which in the past have included the Tunbridge Wells Forum and the London Troubadour.
His sound is comparable to the likes of Elliott Smith, Radiohead, Beck and Neutral Milk hotel, but is constantly taking inspiration from sources both in and outside of music.
Lou is currently working on a Solo EP followed by plans for a 2016 album release, whilst working alongside musicians of all genres as he completes his degree.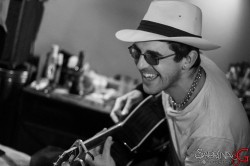 click to enlarge
Tunbridge Wells based singer / songwriter Mystery Clarke has established himself as one of the most captivating and charismatic soloists on the local music scene. He has been performing at The Grey Lady for many years now and he has recently been working with a host of top local musicians to form one of the most unusual bands in the area. A veritable super-group of experts in the fields of funk, folk and electronica - The Mystery Clarke Band are well worth investigating. You can find them on YouTube, FaceBook, SoundCloud and their own website. Influences include the phases of the moon and the changing of the seasons. And what is the mystery? See if you can find out!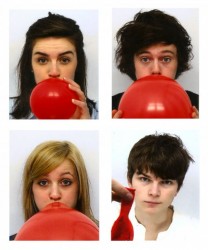 click to enlarge
Sets are a group of Kent musicians who formed a band in 2008 while they studied in Yorkshire at the University of Leeds and Leeds College of Music. Sets' music features multi-vocal harmonies, violin, flute and harpsichord supported by a tight and inventive rhythm section. The approach of combining innovative and accomplished instrumental performance with the melodic lead vocals of singer Dominic Scott gained Sets a dedicated local following whilst they studied at university. The band have performed several live sessions for BBC DJ Alan Raw, who is a vocal admirer of their music, as well as sessions for Leeds Indie Radio, a performance at an NME after-show party for The Vaccines, support for Grey Lady act Tom Williams & The Boat at the famous Brudenell Social Club along with numerous performances at bars and venues across the city. Nationally Sets have performed on the main stage at the 229 club in London, the Deaf Institute in Manchester and The Tunbridge Wells Forum (the venue where the members first cut their musical teeth with various local acts in the mid 2000's.)
Sets have now graduated and returned to live in the South-East with the intention of continuing to perform in London and the local area.