Lou Rivers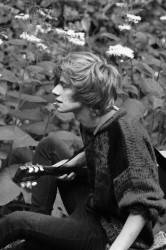 click to enlarge
Lou Rivers has been enchanting audiences with his acoustic style across the South east since his early teens. Now through time spent studying a Songwriting degree at the British Institute of Modern music, and the life experiences that came as a result, Lou has both broadened and honed his unique style.
Having taken a break from live performance to refine his songwriting, Lou is keen to return to the stages which in the past have included the Tunbridge Wells Forum and the London Troubadour.
His sound is comparable to the likes of Elliott Smith, Radiohead, Beck and Neutral Milk hotel, but is constantly taking inspiration from sources both in and outside of music.
Lou is currently working on a Solo EP followed by plans for a 2016 album release, whilst working alongside musicians of all genres as he completes his degree.
Last played:
The Grey Lady Music Lounge, Wednesday 13th August 2014
Mystery Clarke, Charlotte Rose Ellis, Louis Nevison, Bella McKendree