The Grey Lady Music Lounge, Sunday 20th November 2011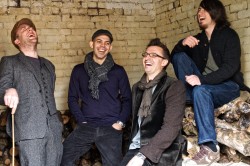 click to enlarge
The Good Ship Band is a rock pop four piece from Tonbridge, Kent, UK. Formed in March 2009, the band have sold over 1000 copies of their debut album, released 6 singles, supported Keane, and have received 11 record deal offers to date; testimony to their relentless gigging throughout the South East and two irresistibly melodic albums. Propelled by the songsmithery of frontman Jez Harley and guitarist/signed songwriter Ed Bingham (NorthStar Music), the band's recent airplay has drawn comparisons with Fleet Floxes, Paolo Nutini and Kings of Leon.
With top bassist James Elliott and session drummer Simon Whiting completing the line-up, the band's live reputation has resulted in the act being sought out by all corners of the industry. Following a flood of offers, TGSB were approached by video-makers Blindeye Films (Sigur Ros, Bryan Ferry, Eliza Doolittle) and the two parties collaborated to produce a stunning promo for live favourite 'Hometown'. With such momentum, the band released 'Boomerang Girl' followed shortly by the eagerly anticipated second album, 'The Good Ship Band - Part 2'. Part 3 is already on the way, with more live shows booked and recording dates in the pipeline.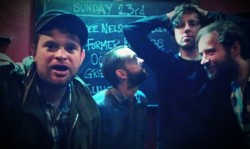 click to enlarge
Large Cardinals is increasingly being described as Alex Metcalfe plus anyone who can bear to be in the same room as him long enough to get through a set.
It's pretty much down to family members now, with brother James and sister Nim joining on lead guitar and backing vocals respectively. Also roped in are James Cox (of Son of Kirk and The Naming of Things etc.) and Richie Gabriel from local favourites, "The Swinging Little Big Band".
Their first single, "She's a spider" is available from iTunes and Bandcamp (see link below). Alex's songs have been heard on the Radcliffe / Maconie show on Radio 2 as well as Radio 6 and Resonance FM, and been described by The Sun as "British songwriting at its best (Four Stars)".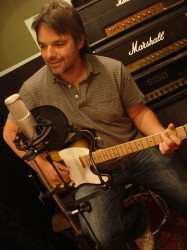 click to enlarge
Tunbridge Wells-based singer/songwriter Markus Holler has been playing music since he was 10 years old. Having played in bands since the age of 14 in recent times Markus has performed solo. These days, however, he is gradually building a circle of musician friends and it is with these players that Markus performs more often. Playing guitar is Chris Gussman and playing drums is Andrew Morley. Influences include "Tom Petty, Dylan, The Allman Brothers, Drive By Truckers and about a million others". There is no shortage of inspiration as Markus spends his daytime dealing in - and listening to - rare vinyl records. Markus, Andrew and Chris have each played live and recorded for many years and hope to perform together much in future.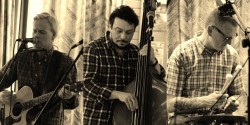 click to enlarge
The Fufkins are a three piece from Kent and Surrey featuring singer/guitarist/songwriter Matt Carr, electric/double bass player Mark Sykes, and Andy Phillips drums/percussion. The Fufkins write thoughtful pop songs, citing influences such as Neil Finn (Crowded House), Difford & Tilbrook (Squeeze), Aimee Mann, and Richard Hawley, among others. The Fufkins are regulars on the Kent and Surrey live, and folk music scenes, playing both acoustic and electric sets. The band have supported the likes of The Blockheads, Modern English, Davis Lindley Mullan (Stackridge), and most recently the great Boo Hewerdine. The Fufkins were featured at the 2015 Tunbridge Wells Local & Live festival. The Fufkins' old school instrumental track "Vincent" has been used as the theme tune for "Pienaar's Politics" on BBC Radio 5 Live since 2012 - listen out for the Fufkins on your radio every Sunday morning at 10am!