The Grey Lady Music Lounge, Sunday 17th July 2011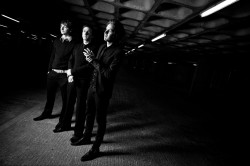 click to enlarge
A 3-piece rock outfit with a difference; This Brighton/Tunbridge Wells based trio have achieved a definitive rock sound and developed impressive songwriting ability in the time it takes most bands to choose a name. The Clockworks sound is innovative and current and whilst they quote influences ranging from Coldplay to Fall Out Boy to Muse, they've carved out a sound of their own. The lyrics are sincere and the music is catchy without being petulant or tedious. Frontman Joshua Renton has a unique voice that leaves you aching for more with each high note.Their debut 8 track album, 'Swings and Roundabouts', produced and recorded by the band, is an incredible tribute to their originality, hard work and seemingly endless well of talent. It has the sonic impact typically found on American productions whilst the songwriting has a distinctly British feel. Stand out tracks 'Ring the Bells,' 'Last Days' and 'Fairytales' reveal the band's anthemic side and will get any audience out of it's collective seat. Tracks like 'Always' and 'Roundabouts' show a more understated, emotive side to their brand of rock giving the album commercial appeal on par with bands like The Fray and OneRepublic. Their live performances give you the overwhelming feeling that they love being on stage together and couldn't be doing anything else. Shows are slick, captivating and seemingly effortless. They're the new kids on the block who have achieved an impressively professional sound both live and in the studio. Their sights are set high and they want to achieve as much as is humanly possible. World domination is not entirely off the cards.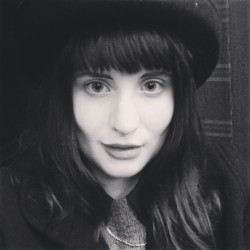 click to enlarge
Born in London and raised in Sevenoaks, Lo was introduced to the Beatles at age five and rapidly developed her first musical obsession. Studying classical piano into her teens, she expanded her tastes to take in Kate Bush, the Smiths and Regina Spektor. Her sound is one of contrasts, between her haunting yet honeyed voice, her dark and desolate lyrics, the warmth of her piano; her songs too transform autobiography into more abstract imagery.
Lo has received airplay on BBC Kent and BBC6 Music. She was invited, as part of BBC Introducing, to the Introducing Masterclass at Abbey Road and Maida Vale studios and her performance for Tom Robinson was featured on the BBC website . More recently she was selected to take part in the Mayor of London's Big Busk competition which saw her busk at the O2, amongst other famous London landmarks.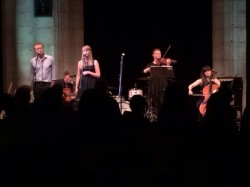 click to enlarge
Singer-songwriter, Paul Dunton leads his own unique cross-over orchestra providing an atmospheric fusion of alternative and pop with a classical twist. Paul & his Orchestra take influences from varying modern day artists such as Pink Floyd, Elbow, ELO, Turin Brakes, Massive Attack, Damien Rice and contemporary composers such as Samuel Barber, Ludovico Einaudi, John Barry and Hans Zimmerman. The Orchestra performs Paul's own compositions and a varied selection of uniquely arranged standards from a wide range of artists. The line-up of 8 violins, 4 cellos, guitar, flute, bass and percussion accompanies Paul on vocals and piano, joined by his lead vocalists, Charlotte Andrew and Poppy Raine. Paul and his Orchestra regularly perform at concerts, festivals and private events throughout the UK and internationally, including headlining the Theatrium Wilhelmstraße Festival in Wiesbaden, Germany and an 8 state tour of the USA which culminated in a spectacular roof-top performance on top of the New York Strand Hotel. Increased attention and success led to the orchestra being featured on BBC Radio 2 by Joan Armatrading with interviews and airplay of one of Paul's songs, 'Don't Forget'. This led to Paul supporting Joan Armatrading on five occasions during her recent UK tours.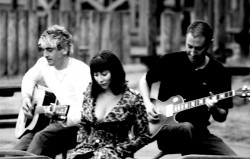 click to enlarge
When Colours Collide is a band with their own particular style of melodic pop.
Hannah has been singing since the age of five, in everything from charity concerts and theatrical shows to a pop group that toured the country for two years. She began song writing at the age of 15 but it wasn't until she teamed up with song-writing partner Luke, after meeting in a previous band, that everything came together. Luke's catchy, harmonic rhythms and 'twinkle fingers' are the perfect accompaniment to Hannah's beautiful, melodic vocals. Add Paul, with his Satriani guitar roots and fantastic technique, into the mix and you've got a fascinating combination that everyone describes as really different. One thing's for certain, their sound will get your feet tapping.