The Grey Lady Music Lounge, Sunday 5th June 2011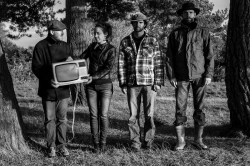 click to enlarge
Son of Kirk is a meeting of hearts and minds. A constantly evolving musical force driven by four uniquely creative individuals, who build on a foundation of inspired song-writing and strong melodic and lyrical interplay.
Interweaving violin, cello and syncopated guitar lines, combine with dance and Afro beat informed percussive drum patterns and elements of improvisation. Four part harmonies create overlapping vocal lines, inspired by tribal and folk traditions. Expect to be taken on multiple rhythmic twists and turns, by songs that circle and hover, unveil and reveal.
The members of Son of Kirk grew up in varying backgrounds around the world, from Australian cults, to the wilds of West Africa, through American suburbia, to the industrial Midlands and the lush, green beauty of The Garden of England, ultimately coming together on the Tunbridge Wells music scene.
The band are currently working on new songs to be released as a series of E.P.s with accompanying films. The first of these 'Utopia Shake' is available to view on Facebook. Songs are available at iTunes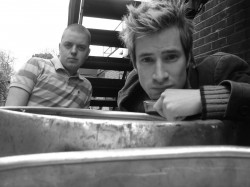 click to enlarge
Walking On Sunday are Henry & Nick, who have been writing together for 10 years and have played, busked, and recorded their way across Kent and London. Their unique mix of acoustic mellowness and insightful lyrics has helped them establish a solid and ever increasing fan base. The duo's take on their music is as follows "The first song that really got us noticed was 'Camden Town'. This started out as a story about one of our favourite places to see live music and grew into a song about their own experiences there and hopes about performing there in the future. Shortly after writing Camden Town we were asked to join a band called C7. Nick as the main vocalist and me as the drummer and though this band we headlined Maidstone river festival for 3 years in a row. Although mainly a covers band C7 allowed us to play our own tracks for a 20 minute slot in the middle of the set which increased our fan base and gave us the boost in confidence we needed to write more of our own music. One of our favourite things to do is to busk. It gives us a chance to try out new songs on people wandering past and gives us a really good idea on what sort of music people enjoy and what works".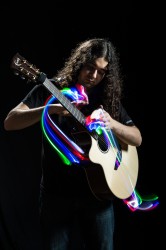 click to enlarge
Sean de Burca is a percussive acoustic guitarist from Kent. By the time he had been playing guitar for just 7 years, he had already been named as one of the top 30 greatest acoustic guitarists under the age of 30 worldwide by Acoustic Guitar Magazine, alongside Ed Sheeran, Newton Faulkner and more. Sean has also been featured as Acoustic Magazine's 'Next Big Thing'. On his latest CD, Mechanism, an experimental album combining various playing styles and genres, Sean has also featured his bass guitar, drums and electric guitar playing alongside his original solo acoustic compositions.
"From harmonics to percussive slapping to agile fretboard dancing, this southpaw knows a thing or two about getting the most sound possible out of his guitar. On his three full-length releases on Bandcamp, the self-taught guitarist shows he isn't afraid of taking risks."
Acoustic Guitar Magazine 2014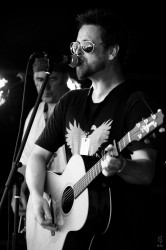 click to enlarge
The Varlies are a homegrown Tunbridge Wells rock band. Formed back in the
early 90s by guitarist, Kev Amos and singer, John Whitehorn, they have
been delighting audiences and listeners alike ever since with their own
blend of music and infectious live performances. The Trinity show is set
to offer a chance to catch the full band in one of their now rare
performances together where they will be performing songs from their last
four albums. With Paul May on drums and Steve Mealing on bass completing
this fantastic line up, this really be one not to be missed. Paul Dunton
Says... "The Varlies are quite simply one of the best bands I have ever
seen live. Their sublime musicianship and infectious melodies underpin
their undoubted ability to create fantastic music. This is band that takes
you on a rollercoaster of emotions! Expect everything from high energy
foot stomping rockin' tunes, funky grooves and hire wire guitar riff's to
beautifully crafted acoustic ballads. John Whitehorne is an exceptional
vocalist, with an incredible range and tone that reminds me of Neil Finn, with shades of Bon Iver's falsetto at times. The band's
live sound is hard to pigeon hole as they have their own swagger and
style, however if you said names such as The Dave Matthew's Band or a
rockier version of Crowded House that would give you an idea!"