The Grey Lady Music Lounge, Wednesday 7th July 2010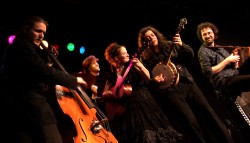 click to enlarge
Harmony Glen is a Power-folk band from Holland. Since 2005 they've been touring Europe, recording albums (which they'll bring along) and are continually in and out of the studio for their new album (release expected in 2010!) and touring Europe once more!
Their debut album 'Before Dawn' and their second album 'Streaming Tunes' are internationally acclaimed, and their working hard to 'wow' the world with their fourth album (of which they are playing some songs and tunes already!).
Harmony Glen is:
Nienke Bijker - Vocals, Guitar, Spoons
Dominique Bentvelsen - Double Bass
Vincent Pompe van Meerdervoort - Vocals, Bodhrán, Accordeon, EWI
Sjoerd van Ravenzwaaij - Vocals, Tenor Banjo, Mandolin, Guitar, Tin Whistle
Job Verweijen - Percussion
And evening with Harmony Glen is not to be missed! It has been described as 'Folk not for the faint of heart' and 'A pint of Guinness with a shot of Red Bull'.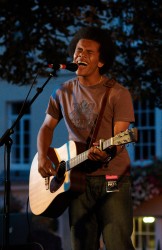 click to enlarge
Until fairly recently Luke sang and played guitar in local band 'Tehillah Commission' who over a six year period performed throughout the South East (and occasionally further afield). Since their final performance in the summer of 2009 Luke has taken time working on new material, collaborating with a number of local artists and also writing songs to perform as a solo artist. Drawing from extremely diverse influences (from John Mayer to Usher), Luke sets out to write songs that interrogate the highs and lows of life, often imbedding insightful questions within carefully crafted toe-tapping melodies.
Luke is accompanied by Barnabus Shaw on piano.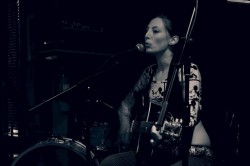 click to enlarge
Bea Everett is a 21 year old singer songwriter from Tunbridge Wells. She completed her BA Hons in Professional Musicianship at BIMM Brighton in June 2015, and has since been travelling, busking, and started her own Personalised Songwriting business (Beaspoke DesignerSong).
Bea started writing music at the age of 12 and has been performing at The Grey Lady and other venues since the age of 14. Her main musical influences include songwriters such as Joni Mitchell, KT Tunstall, Norah Jones and Katie Melua, but her music is mostly inspired by the people she meets and revelations that come from everyday life.
Bea's first EP, "The Woods" is available to stream and buy online from various stores such as iTunes and Spotify.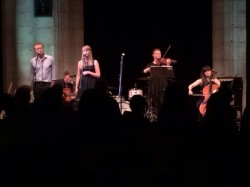 click to enlarge
Singer-songwriter, Paul Dunton leads his own unique cross-over orchestra providing an atmospheric fusion of alternative and pop with a classical twist. Paul & his Orchestra take influences from varying modern day artists such as Pink Floyd, Elbow, ELO, Turin Brakes, Massive Attack, Damien Rice and contemporary composers such as Samuel Barber, Ludovico Einaudi, John Barry and Hans Zimmerman. The Orchestra performs Paul's own compositions and a varied selection of uniquely arranged standards from a wide range of artists. The line-up of 8 violins, 4 cellos, guitar, flute, bass and percussion accompanies Paul on vocals and piano, joined by his lead vocalists, Charlotte Andrew and Poppy Raine. Paul and his Orchestra regularly perform at concerts, festivals and private events throughout the UK and internationally, including headlining the Theatrium Wilhelmstraße Festival in Wiesbaden, Germany and an 8 state tour of the USA which culminated in a spectacular roof-top performance on top of the New York Strand Hotel. Increased attention and success led to the orchestra being featured on BBC Radio 2 by Joan Armatrading with interviews and airplay of one of Paul's songs, 'Don't Forget'. This led to Paul supporting Joan Armatrading on five occasions during her recent UK tours.