Bea Everett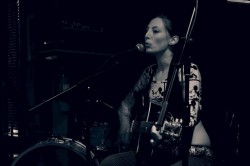 click to enlarge
Bea Everett is a 21 year old singer songwriter from Tunbridge Wells. She completed her BA Hons in Professional Musicianship at BIMM Brighton in June 2015, and has since been travelling, busking, and started her own Personalised Songwriting business (Beaspoke DesignerSong).
Bea started writing music at the age of 12 and has been performing at The Grey Lady and other venues since the age of 14. Her main musical influences include songwriters such as Joni Mitchell, KT Tunstall, Norah Jones and Katie Melua, but her music is mostly inspired by the people she meets and revelations that come from everyday life.
Bea's first EP, "The Woods" is available to stream and buy online from various stores such as iTunes and Spotify.
http://www.youtube.com/BeaEverettMusic
Last played:
The Grey Lady Music Lounge, Sunday 22nd December 2019
Matt Black, Matt Falloon, Bea Everett