The Grey Lady Music Lounge, Wednesday 6th January 2010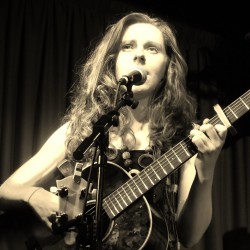 click to enlarge
Zoe Nicol Biog
Singer Songwriter Zoë Nicol is a maverick in the world of folk music- a storyteller with a lyrical twist, but more than that, Zoë is an artist who possesses the rare ability to leave an audience breathless. "I recall the moment I first heard Zoë sing I felt completely moved and inspired, you could hear a pin drop as the audience listened intently, everyone present was totally absorbed by her performance. Her songs are beautifully crafted, rich in both melody and creative edge" Music promoter - Paul Dunton
Zoë grew up with the influence of Joni Mitchell and Eva Cassidy who inspired her to become the sincere and heartfelt artist her fans have come to love. Her debut EP entitled 'Walk Against The wind' was released in the summer of 2008 and sold out by the winter of that same year. Her captivating stage presence is embellished further by her modest and enchanting persona, she is able to reach out and connect to an audience through her live performances and recordings.
Zoë hails from Tunbridge Wells in Kent. She graduated in 2010 from LIPA (also known as the Paul McCartney Music School) studying performance and song writing, as well as recording her full-length debut album titled "These Are The Stories", released in April 2010.
Zoë is now pursuing her music in London as part of the band Worry Dolls but still continues to write and perform solo on special occasions. Zoë was given the opportunity to support Joan Armatrading in November 2012 twice, both solo and as part of the band. Worry Dolls released their first EP In February 13 which is available for download from www.worrydollsmusic.com. Zoe is currently performing regularly as part of Worry Dolls and working on the next release.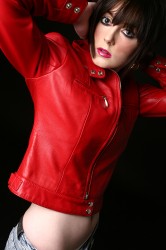 click to enlarge
Tunbridge Wells-based singer/songwriter Fran Hemsley's alternative style is laced with mood and atmosphere, edgy lyrics and distinct vocals. In her own words she says " Having previously collaborated with other musicians and gaining experience in a metal band from 2004 to 2007 I felt driven to carve out my own sound. For me it was all about cutting down to the basics of piano and voice, so that I could air all the influences and experiences that drive me. For me the words are important and I find those artists who communicate honestly and intelligently are magnetic. I number among my influences The Stooges, Patti Smith, Al Stewart, The Doors, Thom Yorke and The Pixies. When I listen to music and hear something that I can relate to, I feel moved and inspired and that is what I aim for. I strive for a raw and interesting sound and a lyrical honesty that is not glib or affectedly pretty."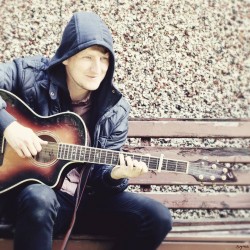 click to enlarge
Matthew Hovenden is a singer songwriter currently based in the city of Brighton & Hove. With influences such as Fleetwood Mac, Dave Matthews Band, Beck and many others his sound could be classed as folk/rock/pop but is eclectic in its use of different musical styles. Currently he is working on the recording and release of his debut EP Northern Line with a view to sharing his music with a wider audience and can't wait for you to hear the finished result.
You can check out some of his previous work on Soundcloud. Also keep updated on upcoming events by joining his Facebook page.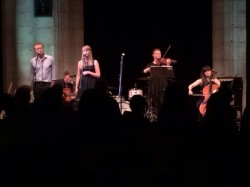 click to enlarge
Singer-songwriter, Paul Dunton leads his own unique cross-over orchestra providing an atmospheric fusion of alternative and pop with a classical twist. Paul & his Orchestra take influences from varying modern day artists such as Pink Floyd, Elbow, ELO, Turin Brakes, Massive Attack, Damien Rice and contemporary composers such as Samuel Barber, Ludovico Einaudi, John Barry and Hans Zimmerman. The Orchestra performs Paul's own compositions and a varied selection of uniquely arranged standards from a wide range of artists. The line-up of 8 violins, 4 cellos, guitar, flute, bass and percussion accompanies Paul on vocals and piano, joined by his lead vocalists, Charlotte Andrew and Poppy Raine. Paul and his Orchestra regularly perform at concerts, festivals and private events throughout the UK and internationally, including headlining the Theatrium Wilhelmstraße Festival in Wiesbaden, Germany and an 8 state tour of the USA which culminated in a spectacular roof-top performance on top of the New York Strand Hotel. Increased attention and success led to the orchestra being featured on BBC Radio 2 by Joan Armatrading with interviews and airplay of one of Paul's songs, 'Don't Forget'. This led to Paul supporting Joan Armatrading on five occasions during her recent UK tours.