Zeffyr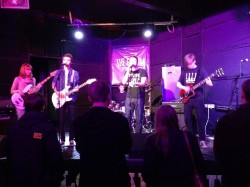 click to enlarge
Zeffyr are an Indie Rock band based around Tunbridge Wells. Zeffyr comprises of Josh Carr on lead vocals, Ollie King on lead guitar, John Bicknell on rhythm guitar, Hannah Holder on bass and Dan Best on drums and percussion.
Inspired by bands/artists such as Led Zeppelin, Pink Floyd, Soundgarden, John Mayer, Kasabian, The Kooks and Kaiser Chiefs, Zeffyr's music combines heavy guitar riffs with mellow blues and a modern rock drive. Since forming, the band have progressed to compose a collection of original songs (as well as being able to put their own twist on covers). Recently they have embraced the challenge of tailoring their compositions from amplified electric guitar based music to stripped down acoustic adaptions while still maintaining a high-energy feel.
Together, Zeffyr prepare to write and record more dynamic songs and look to pursue entertaining concertgoers with their vibrant performances.
https://www.youtube.com/channel/UCzQVV2D6ue9Wdjjs6FllVtQ
Zeffyr on Twitter (@Zeffyr_Official)
Last played:
The Grey Lady Music Lounge, Wednesday 4th January 2017
James & Grace Carroll, Zeffyr, Poppy Raine, The Breretons