Thoma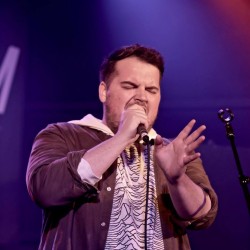 click to enlarge
THOMA is the alias of London born singer and songwriter Tom Johnston.
From a young age Tom began singing and writing songs, influenced by artists such as Phil Collins, Luther Vandross and Whitney Houston. Tom, like the artists he grew up listening to wanted to blend powerful vocals with immersive songwriting and cut his teeth playing various open mic nights and gigs at Bars, Pubs and Clubs, where his original material was always met with acclaim.
Tom started to gain a local following and began playing different events and local festivals, where he drew the attention of producer and musician Rees Broomfield and began working at SS2 Recordings in Southend, honing his craft as a vocalist and songwriter, collaborating with various musicians.
Inspired by the wave of electro pop artists such as Troye Sivan, Oh Wonder and Halsey, Tom began to carve a sound that combined his commanding soulful voice with captivating lyrics and ambient electronic flourish.He quickly gained attention on the Southend music scene with various industry professionals now lining up to work with him.
Through his reputation as not just a prolific songwriter and vocalist but also a fun and dynamic performer, Tom was offered a support slot on indie pop band Youth Club's April Tour, appearing at the O2 Academy Islington and Chinnery's in Southend. These dates coincideD with the release of his first single 'Wild Love', taken from his up and coming EP release in June 2018.
Last played:
The Grey Lady Music Lounge, Wednesday 29th May 2019
Thoma, Lee Willz, The Gallerys