The Rise And Fall Of Shaun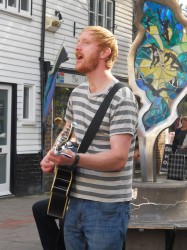 click to enlarge
I started playing guitar when I was younger and through the following years went through a whole number of different genres before settling on folk. However all that has added to create the style I play today, bringing in pop, folk, indie, blues and many more. By 2011, I started coming up with songs to emulate my music heroes and have written a whole host of songs on my own and also enlisting friend and lyricist Jim Radford, from the band These Curious Thoughts.
My influences range from older artists such as John Martyn and Neil Young to contemporary ones like The National, Damien Dempsey and Frank Turner.
I made the move from playing my songs in front of friends to doing open mics with the acoustic valium project in August 2013 in around Tunbridge Wells and enjoyed the experience. I've got an EP for sale on SoundCloud.
The Rise And Fall Of Shaun on Soundcloud
Last played:
The Grey Lady Music Lounge, Sunday 13th July 2014
Artist (TBC), The Rise And Fall Of Shaun, Quentin Holway, The Reckostacks (formerly The Alex Beharrell Band)