The Midnight River Crew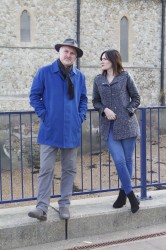 click to enlarge
Sharon has been singing for 20 years and has performed both as a lead and backing vocalist with bands and acoustic acts. After graduating with a Popular Music Degree from Leeds College of Music, Sharon starting working towards becoming a Singing Voice Specialist and travelled to Europe and the USA for voice conferences. She is currently working as a Vocal Coach specialising in Pop, Rock and Musical Theatre, teaching children and adults from the ages of 6-65. She is continuing to advance her passion and knowledge for the voice and is starting a Post Graduate course specialising in Vocal Pedagogy and Voice Science.
Among her vocal influences are Kelly Clarkson, Pink and Skin from Skunk Anansie.
Mark writes serious songs for serious people. Motivated by human stories and current affairs, both local and global.Two MRC albums are currently on release 'My City Of Fire' and 'Going Live! South Of The Equator'. A new MRC film 'Scirocco' is nearing completion, along with the next MRC album. Mark's songs have been covered by Jennifer Crook, My Darling Clementine, and Bob Andrews (Keys wizard with Graham Parker and The Rumour).
His influences are Ray Davies, Graham Parker, Smokey Robinson, Curtis Mayfield, Gladys Knight, Nina Simone, Emmylou Harris and Rodney Crowell. And Dusty!
Mark and Sharon started collaboratively working in August 2015.
https://www.facebook.com/sharonmarivocalcoach/?fref=ts
The Midnight River Crew on Twitter (@MidniteRivaCrew)
The Midnight River Crew on Facebook
The Midnight River Crew on Soundcloud
Last played:
The Grey Lady Music Lounge, Sunday 20th August 2017
Emanuel Fanthome-Hodgson, Rachael Stalker, The Midnight River Crew, Megan Jordan