The Hoolie Moolies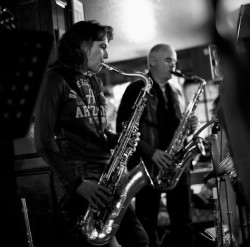 click to enlarge
The Hoolie Moolies are veterans of the live music scene. The musical style is feel-good with an upbeat tempo. They have been described as "vibrant charismatic and flamboyant characters playing a pulsating funky rhythm with a bluesy tilt". With thought provoking and humorous lyrics and strong guitar emphasis the set will get your foot tapping. The last time they played the Grey Lady, they were literally dancing in the aisles!

They are Barry J McCormack (guitar and vocals), Jackie Taylor (sax and flute), Mark Hawkins (sax), Mick Seal on drums and John Patton on bass.

Tonight you will see the band perform a rare acoustic set. Their album and single are also about to be launched and first pressing will be available at the gig.
The Hoolie Moolies on Facebook
Last played:
The Grey Lady Music Lounge, Sunday 29th April 2012
Blinded Bird, The Hoolie Moolies, Will Cook, Towma