Tarnishes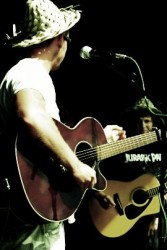 click to enlarge
Tarnishes is the name given to a collection of songs that is not an album or an E.P, it is an on going body of songs that will never be concluded.
These songs are about feelings and relationships that are forever tarnished, providing the background for the name of this acoustic act.
Newly formed for 2010, the members of Tarnishes have played in many venues around the southeast and London. From the legendary Half Moon in Putney to That's Tentertainment 2009 music festival in Tenterden, The 12 Bar Club on Denmark Street to many performances at the Grey Lady and The Forum, Tunbridge Wells.
Tarnishes take inspiration from the vocal deliveries of Paul Weller, the melodies of Oasis, guitar riffs from Doves and the charm from local acts like The Kitchen Poet, who is also a long serving artist in the Grey Lady.
Tarnishes have been working very hard on their recordings in the past 12 months, they have featured many times on BBC radio Kent and have an E.P available for gratis. Their music is there to be enjoyed and passed on to whoever appreciates it.
Last played:
The Grey Lady Music Lounge, Sunday 16th October 2011
Corey Fox-Fardell, Tarnishes, Tom Alexander, Arcelia