Sweetheart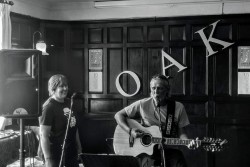 click to enlarge
Husband and wife duo Peter and Janemarie Taylor have been singing together since 2000.
They formed the duo Sweetheart in 2001 and released a short issue EP 'Calverley Park' in 2002.
The ep was a homage to Gram Parsons and Emmylou Harris and also a celebration of their passion for Calverley Grounds. They held their wedding reception on their beloved bandstand in 2007.
The EP was recorded at Barn Studios in Hildenborough and was engineered and produced by Andy Organ (www.facebook.com/andrew.organ.79).
The EP comprised of a Gram Parsons original 'Song For You' and a Parsons / Harris cover of 'Love Hurts'. It also featured four original songs 'The Singer', 'You Boy', Beyond Love' and 'These Things'.
They will also be taking orders for copies of the EP with original and new artwork. The CD's will cost £10 and all money will go to Local and Live.
http://www.petertaylormusic.com/
https://www.reverbnation.com/sweetheartuk
Last played:
The Grey Lady Music Lounge, Sunday 28th October 2018
Artist (TBC), Sophie Harmsworth (of The Secret Crowd), Sweetheart, Jon Grayson