Summer & Smoke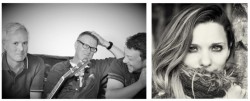 click to enlarge
This collaboration is a new and exciting departure, with two lead vocals that complement and harmonise so well bringing a unique vibe to our set of original soulful Americana tunes.
Summer & Smoke's original songs are inspired by great songwriters such as Richard Hawley, Aimee Mann, Difford & Tilbrook, and Father John Misty, to name just a few touch points. Underpinned by the tight grooves of Andy Phillips (drums), and Mark Sykes (bass), the songs feature tasteful acoustic, and electric guitars played by singer/songwriter Matt Carr, and uncluttered arrangements that allow these timeless tunes space to breathe.
Rebecca Riedtmann writes and plays enchanting Americana and soulful blues. She has recently released her debut album; a collection of powerfully intimate songs featuring Rebecca's heartfelt lyrics and smoky delivery. Surrey-based Rebecca has been establishing her unique place on the UK Americana scene over the last few years. Performances have included appearances on BBC1 and at The Black Deer Festival; The Bedford, Balham and recently a sold out show at Green Note, Camden. She was also featured among artists to look out for in 2018 by BBC journalist-broadcaster Paul Sexton.
http://www.rebeccarie.com/rebecca-riedtmann-music
Last played:
Extra show, Monday 30th December 2019
Jack Burns, Summer & Smoke, Steve Hewitt