Sissy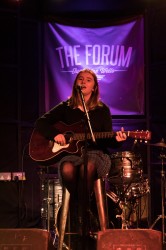 click to enlarge
Sissy is a 14-year-old singer-songwriter from Tunbridge Wells. Sissy has been singing as long as she's been able to walk and has inherited her love for performing from her paternal grandparents who were both club singers on the Northern circuit in the 1950s, 1960s and1970s.
Her influencers are Lana del Ray and London Grammar, and she describes her sounds as a blend of soul and folk. Her songs can be accompanied by guitar and piano and she has a wide range - she is as happy performing musical theatre as she is performing in Italian and Latin for her school's Schola Cantorum.
Sissy has performed at Open Mic nights at TheForum, The Brecknock Arms, The Beau Nash and can be found busking on the Pantiles in herschool holidays.
https://www.youtube.com/playlist?list=PLD5axR9hil5qYTtQXZO96cYLykmxXgrzc
Last played:
The Grey Lady Music Lounge, Wednesday 8th January 2020
Sissy, The Good Ship Band, Anna Howie