Scott Nicholls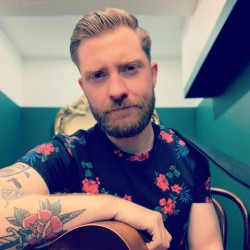 click to enlarge
Scott Nicholls is a country singer-songwriter from England, but his education in all things country music came during a six year stretch living and working in the United States of America. While drawing on influence from artists like Keith Urban, Kip Moore and Eric Church, Scott is able to keep his British roots in-tact through his music producing his own brand of Country Music.
Scott released an EP in October of 2018 comprised of four songs, recorded at two different locations in London. "Live, Acoustic" is a great intimate way for fans to familiarize themselves with how Scott likes to play shows at this moment in time — just Scott, a guitar, and a microphone.
Having only been playing solo acoustic shows since March of 2018, Scott has come a long way in a very short period of time. Starting out playing open mics around London he was quickly booked on shows at some iconic London venue's including the Bedford Tavern — where the likes of Ed Sheehan and the Rolling Stones have played —, The Water Rats (with Alt-Country star Sonia Leigh) and the world famous Hard Rock Cafe.
More recently Scott has been in the studio recording his debut full-band EP and his performances have caught the eye of James Vince of "Live In The Living Room" and Nashville Trio "The Royal South" whom Scott will be supporting on May 4th!
You can listen to Scott's "Live, Acoustic" EP on Spotify/Deezer/Apple Music, and watch the live performance of "On Fire," and "More Than Love Owes Me" on YouTube.
https://open.spotify.com/album/6Ab5pRF6ybofAlxGQyMHLc
https://www.scottnichollsmusic.com/videos
Last played:
The Grey Lady Music Lounge, Sunday 14th April 2019
Scott Nicholls, Elo Quitmann, Hannah Richards, Jon Grayson