Ricky and The Hats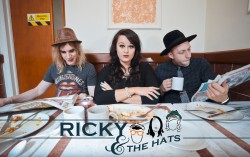 click to enlarge
Ricky and the Hats are:
Ricky Charles Millis - Wordsmith
Rosanna Colclough - Vocals
Scotty Watson - Vocals and Guitar
Simon O' Kelly - Drums and vocals
Stephen Price - Bass and vocals
Ed Paterson - Keys
With their colourful range of facial expressions and a decent amount of banter, it's no wonder Ricky and the Hats have been turning heads whilst entertaining the music scene. Ricky's playful tongue-in-cheek lyrics, fused with Rosanna's expressive vocals and Scotty's funky/reggae style guitar hooks creates a truly unique sound of pop-beat poetry… delivered by an even more interesting mix of characters.
In 2013, Ricky and the Hats were crowned runners up of the nationwide Open Mic UK competition held at The O2, winners of their category and were presented with the 'Best Original Song' award from Root 1. The band walked away with not only smiles upon their little funny faces, but with a cash prize to put towards their music.
2013 saw The Hats write and record the jingles for comedian Eric Lampaert's "Two tickets to the Gum Show" at Edinburgh Festival.
Ricky and the Hats have performed at a number of high profile industry events, including London Rocks at the prestigious Café de Paris in Leicester Square alongside acts such as Juan Zelada, Lee Ryan, Simon Webbe, Jonathan Wilkes, Lemar, Jahmene Douglas and Leo Ihenacho (The Streets).
RATH were also recently asked to perform at this year's Hop Farm Music Festival as part of "Muzivo Rising", performing alongside acts such as; Eliza Doolittle, Brian Wilson (The Beach Boys), Ray Davies (The Kinks), Grace Jones and Scouting for Girls. They are also featured artists on the brand new music app, Muzivo.
"Excellent chemistry, exciting, enjoyable and infectious" Open Mic Judges 2013
http://www.rickyandthehats.net/
Ricky and The Hats on Twitter (@Rickyandthehats)
Ricky and The Hats on Facebook
Ricky and The Hats on Soundcloud
Last played:
FREE SHOW as part of Unfest, Sunday 24th May 2015
I Am Aquitaine, The Paul Dunton Orchestra, The Creatures of Habit, Ricky and The Hats