Planet 3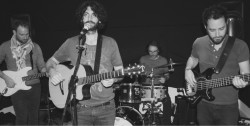 click to enlarge
After years of playing live, numerous studio sessions and everything in between. In 2017 James McMaster, Steven Oates, Keir Moore and Vinnie Reck came together to form Planet 3. Bassist Steve Oates and singer/ guitarist James McMaster met back in the early two thousands playing in a band signed to Polydor. After the band dispersed Steve and James continued to work together on many musical projects.
Eventually crossing paths with Keir and Vinnie, the line up was complete.
The members of planet 3 definitely have a few strings their bow. Between them playing live on radio, supporting the likes of New Order and achieving uk chart success. Now putting all their passion and experience into their new band it looks like there's good times ahead.
Pulling influences from Counting Crows, Pearl Jam, Queen, Beck and the Wildhearts. Planet 3 have an alternative, organic sound with melodic vocals and musical hooks that draw you in.
The band are recording their debut EP in early November.
Last played:
The Grey Lady Music Lounge, Sunday 8th July 2018
Shep!, Anna Howie, Planet 3 (acoustic), The Rooster Boys