Pimlico Road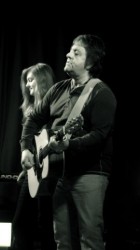 click to enlarge
Pimlico Road consists of Keif Anderson, Liz Poynter. They perform self-penned songs with close harmonies and a strong Americana influence. They have recently been joined by their eldest daughter Holly, who fits rehearsals and performing around her GCSEs.
The band members have a long history of playing and performing. Keif's first musical venture was in his early twenties as a guitarist in a rock group called The Evidence. This eventually lead to a new line up, which included Liz. The emphasis here was on vocal harmonies and – being the 80s – involved keyboards as well as guitars. This new band (called Double Zero) played many of the main venues on the London pub circuit including the Half Moon, Putney; the Half Moon, Herne Hill; The Woolwich Tramshed and the Rock Garden. The early emphasis on strong vocal harmonies has continued into Keif's new work and has been strengthened by Liz's input to the songs and lyrics and Holly's strong vocals.
Pimlico Road's influences are many and varied. They range from the Beatles, Rolling Stones and Led Zeppelin to David Bowie, the Police, the Eagles, Seth Lakeman, Cara Dillon, Joni Mitchel and Jackson Browne. Then, of course, there are numerous Motown and Reggae artists (particularly from the 60s and 70s) and the likes of Simon & Garfunkel, The Mamas And The Papas, and the Beach Boys. Where to stop? Here probably!
The band say: "We are having fun right now recording an EP with a number of friends and guest musicians. This will introduce double bass, percussion and a hint of banjo to some of our songs. Yee Ha!"
http://www.reverbnation.com/pimlicoroad
Last played:
The Grey Lady Music Lounge, Sunday 21st July 2013
Marie White, Pimlico Road, Mairi Neeves, Three for a girl