Nick John Wilson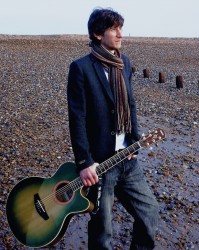 click to enlarge
Born with left side Microtia, Nick picked up the guitar from his folk playing parents when he was seven years old.
His uncle played drums with Suzi Quatro in the seventies, so music has always run in the family.
Nick started to sing and produce his own songs at eighteen having honed his blues, rag finger style and soulful rocky tones.
He ran a studio for three years and in 2013, now with time to focus on himself as an artist, released his debut EP followed by his debut album early 2015.
Nick aims to be out and about more than he ever has been, to promote himself, record label, charities and good music. More info online.
http://www.nickjohnwilson.com/
Nick John Wilson on Twitter (@njwofficial)
Last played:
The Grey Lady Music Lounge, Sunday 24th January 2016
Mystery Clarke Band, James Medhurst, Lui Dodds, Nick John Wilson