Milly McCarron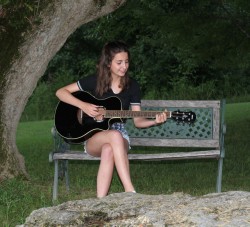 click to enlarge
16 year old BIMM student Milly, was first inspired to pick up an electric guitar by Avril Lavigne when she was only 6. A few years later she started singing and now mainly plays acoustic and has added ukulele and piano to her set. She covers a variety of songs from Taylor Swift through to Green Day as well as writing and performing her own music. Taylor Swift is a major influence and inspiration to her when writing and she has been told her voice and tone have natural country style.
A recent visit to Nashville, Tennessee, provided Milly with the inspiration for several new songs and whilst there she was able to perform one of these at the legendary Bluebird Cafe.
Playing live in front of people is her passion and she regularly performs at pubs, restaurants and coffee shops around East Sussex and Kent, whilst music festivals have provided Milly with the experience of playing in front of larger audiences, where she has been lucky enough to play on the same bill as Newton Faulkner, Emma Stevens and Grace Savage.
Last played:
The Grey Lady Music Lounge, Wednesday 4th April 2018
Milly McCarron, Nick Stephens, Katy Virgoe