Miller & Nodwell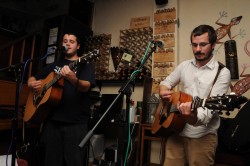 click to enlarge
Edward Miller grew up in the small Sussex town of East Grinstead. Oliver Nodwell grew up in near by Marsh Green, Kent. Since the age of twelve they have been collaborating musically mostly for fun. Since 2008 they have slowly discovered a strong love for acoustic and folk music and have embarked upon a new musical venture in Miller & Nodwell.
In late 2009, after only three gigs and two radio appearances, the boys went travelling for almost two years to the southern hemisphere, gathering inspiration from the apple orchards, dairy farms and southern alps of New Zealand to the outback and the grand cities of Australia. They were very well received, winning competitions in both countries and chosen as one of Balcony TV Brisbane's launch acts.
The duo's catalogue involves both collaborations between the two artists and individual and very different developed styles of playing and singing.
Now back in South East England, the duo are set to record all the gathered material and play as many live shows as possible, sharing their stories and experiences wherever they can.
Check out their soundcloud page for free downloads.
http://www.youtube.com/playlist?list=PL067F28F821B25F22&feature=mh_lolz
Miller & Nodwell on Soundcloud
Last played:
The Grey Lady Music Lounge, Wednesday 28th December 2011
Miller & Nodwell, Lo And The Beholds, Three for a girl, Luke Bacon