Leo Snook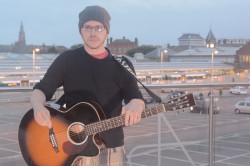 click to enlarge
Leo has been playing guitar and singing for over a decade, starting out originally in folk, moving through a hard rock phase, and now coming full circle back to folk/singer songwriter material.

As a performer, it is always his aim to deliver energy and passion to every performance, connecting directly with the audience at every gig. As a musician, it is always his aim to grow and expand his repertoire, leading to a wide variety of genres being covered at any one time; everything from Nina Simone to songs from the Lion King!

You can't always be sure quite what material you will hear, but you can be assured to have an energetic, powerful and personal experience everytime you see Leo perform.
Leo Snook on Twitter (@leosnookmusic)
Last played:
The Grey Lady Music Lounge, Wednesday 2nd March 2016
Charlotte Tingley, Leo Snook, Lorin Jane Forster, Josh Renton