Lee Williams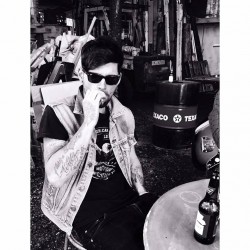 click to enlarge
Lee Williams better known by his stage name as Lee Willz , is an English born rapper, singer and songwriter.
His success as an artist started when he combined with producer Tom Moth (Trademark) achieving a feature on AKA music channel with their music video Friday Night in 2010 and then winning 1st place out of 11,000 bands in The International Surface Festival Competition 2012 at The O2 Indigo, winning £100,000 worth of prizes.
In April 2010 Lee Willz and Trademark first released their album 'Against Your Willz' at The prestigious Tunbridge Wells Forum. Against Your Willz opened up the endless possibilities for Lee Willz combining with a full band and performing at every top venue in London and the South East.
In 2011 they released Bang Bang and Love Me, with the videos shot in San Antonio, Ibiza where Lee performed on a packed out Pukka Up boat party.
In 2012 Lee Willz performed at The Modified Nationals car show alongside Devlin and Sway and returned in 2013 to perform on the same bill as Charlie Brown and Mic Righteous.
2013 opened up great partnerships with Lee Willz and Kent Youth County Council's anti tobacco group 'ReFrame', an organisation trying to educate kids on the actions of the Big tobacco companies.
Lee has began his #WantToKnowMore Youth Tour with ReFrame performing at every Youth Group and many schools in the South east building his fan base on his way.
This August Lee is playing Sziget festival in Hungary where other great performers Dizee rascal, Katy B and Chase n Status will also be performing. Lee will also take on Monkey Week in Spain later this year.
Lee Willz is taking the music industry on at a fast pace releasing fantastic music and videos and getting the attention of his personal influencers such as 'Dappy'. Lee has a fully scheduled year ahead of him and will throw everything he has at it, including a brand new EP and his first solo album.
Last played:
The Grey Lady Music Lounge, Tuesday 9th May 2017
Adam Chadbout, Stuart Worsell, Josh Renton, Lee Williams