Julius Cowdrey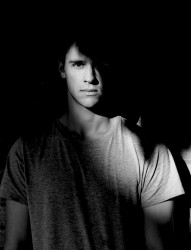 click to enlarge
Julius Cowdrey is a 23 year old English singer songwriter.
Born into a famous sporting and music family in the South of England he has developed his own brand of music. Whilst he has always been a singer he found inspiration during a year studying at the Institute of Contemporary Music Performance in London.
Since then Julius has gigged around the UK for 3 years playing at all the well-known London venues (regularly headlining at The Troubadour.) He was assigned the task of introducing live music to the famous London West End Club, Mahiki, performing at every show.
Julius has twice performed on Fifth Avenue in New York as the guest of Society's Choice and headlined at both a rooftop party and Bar Lubitsch in LA in 2015/16.
Julius writes all of his own music. His style has been compared to Ed Sheeran, but with piano and the expression and emotion of Adele. Following his shows in New York he received his greatest review 'Julius performed beautiful heart-felt music, like Adele'.
Julius has developed his own unique sound on keyboard and is currently writing songs in collaboration with several writers in London and LA. His passion is performing live and writing great music.
Last played:
Julius Cowdrey, Friday 22nd September 2017
Jack Clarke, Julius Cowdrey