Jenni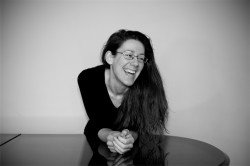 click to enlarge
Jenni has been writing songs since she was a teenager, and since graduating has been working professionally as a freelance composer, songwriter, musical director and pianist.
In the last couple of years she decided to start performing her own songs, and since making that decision has been gigging around the country and abroad, most recently with the very excellent Richard Carter on guitar. Together, their highlight of 2014 was performing in New York, at Pianos Bar in Lower East Side Manhattan, and in March 2015 they launched the debut EP, entitled 'Spring.' The album contains six tracks, all original songs written by Jenni, produced by Richard, and covering a range of styles through jazz, folk, blues and country influenced ballads.
Jenni's songwriting is often compared to Carole King and Joni Mitchell –audience members have commented that it's as if the songs have come straight out of 1971, but with a fresh new edge to the sound and sharp contemporary lyrics.
http://www.jenni.bigcartel.com/
Last played:
The Grey Lady Music Lounge, Sunday 8th January 2017
Milly Rusling, Jenni, Peter Mercer