James McMaster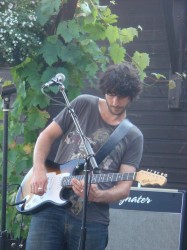 click to enlarge
My name is James McMaster, I am a 36 year old singer, guitarist and songwriter. I started playing the guitar at 14 and started the obligatory school band. We played in the local pubs and a handful of people's parties, or wherever we got the chance to play. This love of playing live continued and is to this day where I feel most comfortable.
After a few years of writing, recording and gigging I eventually got a break with a small record label. Working with the guys at this label was the beginning of what would become Protocol. This band was picked up by Polydor and we began making a record in a small village called White Parish.
We achieved chart success with original material (Top 30) and our videos were number 1 on a few popular music channels.
I have played all types of gigs from weddings to Ibiza Rocks, V fest, live Radio 2 sessions, making videos, writing and recording. I have supported big artists and bands including A-ha, New Order, Hard Fi, James Morrison, The Bravery...
So right now I play in a few bands, I teach the guitar and still love writing. I have recently had a few tracks published by KPM and used on various TV programmes.
I love music whether it's writing in a studio or playing in a covers band.
Thanks,
James
Last played:
The Grey Lady Music Lounge, Sunday 10th November 2019
Jez Harley, David Mumford, James McMaster