Henry Boddy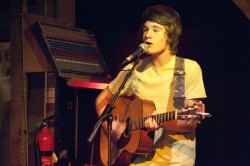 click to enlarge
My name is Henry Boddy aged 14yrs and I live in Crowborough, East Sussex.
I got my first guitar for £5 in a boot fair when I was 9 years old and taught myself how to play some basic chords.
My very first influence was hearing the riff from Smoke on the Water by Deep Purple and my interest grew from there. At 10yrs old I became the lead singer and guitarist in a scout band called The Allies, we mainly did rock covers but I also began writing my own songs and experimenting with new sounds. When I was 11yrs old, along with some members of The Allies, we started another band called The Flare, again I was the lead singer and guitarist and started to write songs more seriously and we played them at our gigs. We began doing gigs in and around local pubs, events, festivals and held our own christmas party at The Forum in Tunbridge Wells.
Even though I have performed with the bands, I also often perform as a solo artist with my acoustic guitar, playing my own songs in pubs, clubs etc. I did a course of guitar lessons and passed my grade 5 last year.
My song writing is improving all the time and I have so many different songs and tunes in my head, my aim is to write songs with catchy melodies and choruses as I want people to enjoy joining in. I am now in band of three
called Habit and I have written all the songs we play and perform. I still have the same drummer from The Flare and The Allies and we have recently recorded an EP of 4 songs.
I just love playing gigs whether on my own, or with the band. My latest songs have a real summery sound and one of my songs called 'Missing' has been chosen for the Forever Searching charity album, which is being released this summer.
My influences are Arctic Monkeys, The Kooks, Kate Nash, The Metros, Klaus and many more. I would love my future to be in music, performing big gigs and for people to sing along to my songs and have a good time!
Last played:
The Grey Lady Music Lounge, Wednesday 27th October 2010
Henry Boddy, Ollie B, Clockworks, Intraverse