Frankie Swain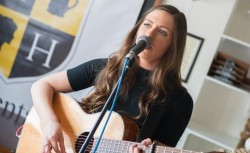 click to enlarge
Frankie has been writing songs since she was 12 influenced by Tracy Chapman and Don McLean. Now 22, Frankie has performed across Kent and London earning an ever-growing fan base who enjoy her raw, emotive voice alongside her delightful sweet personality.
Frankie attended The Miskin Theatre for two years, developing herself as an artist in order to find a distinctive sound. She then went on to graduate from Canterbury Christ Church University reading Commercial Music Performance.
After releasing her debut EP 'The Horses', Frankie is currently recording her second which is to be released in January 2017.
"Lovely voice coupled with great songs. You should really check out Frankie Swain" - James Vince – Live In The Living Room
https://www.youtube.com/FrankieSwain
Frankie Swain on Twitter (@FrankieSwain)
Last played:
The Grey Lady Music Lounge, Tuesday 5th December 2017
Artist (TBC), Frankie Swain, Alice Rose, Stuart Evans