Fire Fly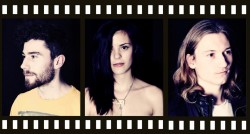 click to enlarge
Fire Fly - the Tunbridge Wells based trio have been playing together for 4 months, after a chance meeting whilst working at The Tunbridge Wells Forum.
Joe Stapley first picked up the djembe at the age of 15 and has more recently started playing the guitar. He has performed locally with fellow family musicians. Eddie Mulvey heard the sounds of Jimmy Hendrix and Stevie Ray Vaughan and by the age of 10 had developed a love of rock and blue's which has transposed to his playing style. Eddie currently studies music at West Kent College. Jasmine Tribe has been recording since the age of 11 when she won solo singing competition IDiva at Grassrootz festival.
Between the 3 of them, they have performed at Madame Jojo's, Long bar, Barfly, The Forum and other local pubs and shows. Inspirations include: Led Zeppelin, Springsteen, The Noisettes, Delilah, Jason Mraz and Lenny Kravitz.
Last played:
The Grey Lady Music Lounge, Sunday 23rd December 2012
Fire Fly, Phoebe Katis, Zoe Nicol, English Sporting Defeat