Elo Quitmann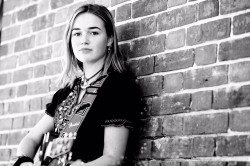 click to enlarge
Elo is a 16 year old singer songwriter from East Sussex; a pianist and an acoustic guitar player.
Lyrics mean everything to Elo, having been brought up on a cocktail of music from Squeeze, Bob Marley and Tracy Chapman, to Lily Allen and Jake Bugg.
Elo is studying at Eastbourne College and has been playing at the Grey Lady for almost a year now. Elo gigs in local pubs, she opened at the 'Local and Live' festival in Tunbridge Wells, played at the infamous Pizza Express in Maidstone and is looking forward to playing at events and festivals throughout 2019.
Elo has several songs on Spotify including her most listened to song 'I Live Mine'. Many more originals to follow as she takes her obsession a little further!
https://open.spotify.com/artist/0Fb6o1ABr3mQvbjrPAGqQu
Last played:
The Grey Lady Music Lounge, Wednesday 19th February 2020
Kerrie Fuller, Elo Quitmann, Soda Prism