Caleb Howard-Almond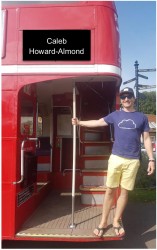 click to enlarge
Caleb is a singer-songwriter who cut his guitar strings on the mean streets of rural Kent, and now plays them out on the hilly streets of Brighton.
He spent many great years playing along side some brilliantly talented musicians and friends in a band called D-FiNiTiVE.
And after going their separate ways, Caleb decided to try his hand at some solo work. Having built up a good collection of songs, he has been dazzling audiences up and down the the South East for a good few years now. With influences ranging from Coldplay to Nile Rodgers and many in-between, a real love of the 'Brit-Pop' scene and many old soul and funk records thrown in for good measure!
Occasionally Caleb is joined on stage by some friendly old faces of former bands, mixing in a few old "HITS" and new tracks to keep things interesting!
Last played:
Pizza Express Maidstone, Thursday 18th April 2019
Caleb Howard-Almond, Alana Hazzard, Alex Beharrell