The Bryony Brooke Band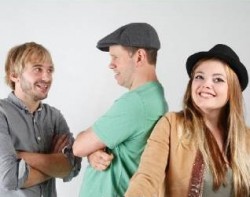 click to enlarge
The Bryony Brooke band, formed in the summer of 2013, consists of Bryony Brooke, James Friis-Lawrence, and Roger Nunn; an acoustic, melodic country trio with original songs delivering beautiful three part harmonies and toe-tapping rhythm.
Performing all over Sussex, Bryony Brooke, makes her mark with her original country/folk sound. A regular on the Hastings acoustic scene, and a performer in his own right, James Friis-Lawrence stamps his varying styles in every performance. Drummer and percussionist, Roger Nunn says, "I like to hit things!" At home with all genres, his playing is infectious!
Delivering their own branded take on the acoustic trio, featuring guitars, fiddle, piano and djembe, The Bryony Brooke Band infuse their melodies with intricate harmonies, pulsing rhythm, and dynamic solos, carving their own corner in the country genre.
The band are currently performing all over the South East and have finished their first album, coming out early next year!
Last played:
The Grey Lady Music Lounge, Sunday 6th July 2014
Mystery Clarke, Tom Harvey, The Bryony Brooke Band, Son Of Kirk