Andy Evans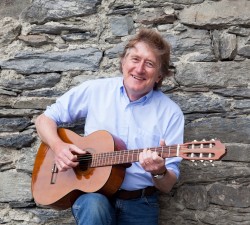 click to enlarge
Andy Evans is an accomplished singer/songwriter and guitarist, with wide influences including The Beatles, Steve Tilston, Tommy Emmanuel, and James Taylor. Classically trained, schooled on rock, jazz and folk, his music pulls a wide range of interests into his own personal style.
Andy's early career was spent in Bristol-based bands, sharing the stage with acts such as The Stranglers, Racing Cars, Gordon Giltrap and Stackridge. Following an honours degree in music, shows at the Edinburgh Festival and stints busking through Europe, Andy moved to London. He became a published arranger and transcriber, as well as playing, writing, recording and teaching.
After moving to Sussex Andy continued along the same track. But the constant throughout his career has been songwriting, as revealed in the dynamic solo performances he now focuses on.
"When you see little kids stopping to sway along with the music and people settling into chairs to listen, it is a good sign that you have found just the right musician to entertain the crowd. We really hope we will see him again next year." Sara - Jubilee Green
"Great to hear Andy play again... amazing guitar playing and relaxed vocals." Catherine - Danehill Country Fair
Andy Evans on Twitter (@EvansTheMusic)
Last played:
The Grey Lady Music Lounge, Tuesday 27th March 2018
Jack Leon Mackey, Peter Taylor, Andy Evans, Matt Falloon