Alice Rose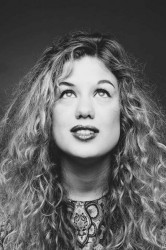 click to enlarge
Alice Rose has been singing all her life. According to her parents, she sung before she spoke as a baby. She has performed from a very early age, in both sing and acting.
At age 16, Alice was accepted in the prestigious BRIT school in London - former pupils include Amy Winehouse and Jessy J. She gained many musical skills over her time there and one stood out alone more than any of them - songwriting. Since then, Alice has written her own material and performed it in public. She has been taught musically by the outstanding teachers at the BRIT school and, in the summer 2010 by Ray Davies of the Kinks. He described her to have a "rare musical intuition."
Alice also enjoys and acting and creative writing and, back in 2009, became Take A Break's "Young Fiction Writer of The Year."
As well as Mr Davies, Alice has many influences, thanks to the wide variety of music she was brought up on. These include: Richard Thompson, The Beatles, Lilly Allen, T-rex, Kirsty Macoll, The Pouges, Aretha Franklin, Joanna Newsome, Paolo Nutini, Marvin Gaye, Leonard Cohen, Joni Mitchell, Lady GaGa, Michael Jackson, Frank Zappa, Otis Redding, Neil Young, Ry Cooder.... to name a few.
Alice hopes that it is this wide mix of influence that makes her music fresh and original.
Last played:
The Grey Lady Music Lounge, Sunday 19th January 2020
Shep!, Alice Rose, Nick Stephens