Adeline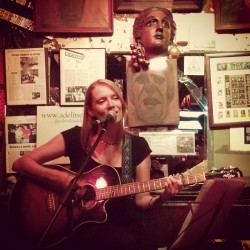 click to enlarge
Adeline is a French singer/songwriter with a British soul. After writing and releasing an independent album (Promesses) in the UK in 2002, she started playing solo venues in the South East area (Hastings, Eastbourne, Tunbridge Wells, Rye) for quite a few years, until she decided to relocate to Barcelona in 2012.
Her music, acoustic rock/pop, a cross between Tracy Chapman and Alanis Morissette, is sung with a strong voice and a heartful of feelings.
Lately Adeline has been making 2 music videos with Girl In A Suitcase Productions (Barcelona) and collaborating with various electronic musicians.
Note: Adeline sung on the track 'Fly' for the Seat Leon advert (2013) - which is currently back on TV.
Last played:
The Grey Lady Music Lounge, Tuesday 17th November 2015
Adeline, Roberto Picazo, Mistress & The Malts, Harley & Woods