Adam Cooney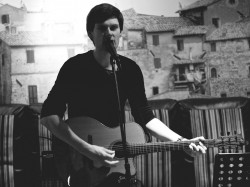 click to enlarge
Adam is a Kent based singer-songwriter who is just about clinging on to his 20's.
Adam writes songs that are honest, melodic and often melancholic. He sings about life, love, loss and anything in between.
Adam possesses a warm, soft voice which is ably accompanied by some intricate acoustic guitar. He has an unhealthy interest in 90's pop hits and these occasionally sneak into his sets.
Last played:
The Grey Lady Music Lounge, Sunday 5th June 2016
Alex Beharrell, Adam Cooney, Nick Stephens, Tom Harvey