Local & Live Sessions, 23rd February, Trinity Theatre
The next Local & Live Sessions takes place on Saturday February 23rd and features popular local groups; Freddy Green + Band and Matt Pound & Lieutenant Leek, support comes Paul Dunton's 20 piece Orchestra.
10pm — Freddy Green + Band (youtube)
Freddy Green has been performing around Kent since 2009 and writing music for what he would describe as the most significant years of his life. As a largely self taught musician he takes his influence from a range of artists including John Mayer, Ray Lamontagne, Bon Iver, Ben Howard, James Vincent Mcmorrow and many more, but his varying taste in genres of music brings out a unique sound reflected into his own. Amongst other things, Freddy has performed at "Barn On The Farm Festival" with artists such as King Charles and Ed Sheeran and Ben Howard. Freddy's sole aim in life is that he can go through it happily with music at the centre, one way or another. Following those few years of excellent progress with song-writing and gigs, he put together a band of musicians, adding various colours and textures to the music and providing sensitive, intelligent ideas whilst maintaining the feel of Freddy's roots, glorious songwriting and inventive lyrics. Combined together with his fantastic band comprised of Sam Woods - Lead Guitar/Backing Vocals , Ryan Turner - Keys, Tim Souch - Bass/Backing Vocals and Mike Uren - Drums
9pm — Matt Pound & Lieutenant Leek (Full band) (youtube)
Hailing from South-East England, Matt Pound & Lt.Leek are a six piece alternative country group. Lyrically bittersweet and melodically pure, the songs embrace both British and American Folk traditions in an understated and reserved fashion. Born out of times between jobs and women and places, Pound's intensely personal song-writing focuses on the ups and downs of modern lives and loves. Emerging from a duo, the group has slowly been crafting a new sound from old notes, culminating in their eponymous début EP, recorded by Dan Lucas at Anchorbaby Studios in the spring of 2012. The full band 5 piece is comprised of Matt Pound- Vocals and Guitar, Tom Jennings - Guitar and Banjo, Immie Mason - Harmonies and Mandolin, Henry Croft - Bass, Simon Browne - Drums.
8pm — The Paul Dunton Orchestra (youtube)
The Paul Dunton Orchestra will open proceedings at 8pm. Paul's music is best described as an atmospheric fusion of alternative/pop and classical. He composes and performs both instrumental pieces and songs. Following his 3 previous album releases; 'Ordinary Guy', 'Train of Thought' and live album 'Escapism', Paul recently released his first EP entitled 'The Sirens 'which is available for purchase at live performances and downloads are available at Itunes and all good online retailers. The EP features Paul's Orchestra which comprises a line-up of up to 8 violins & 4 Cellos, guitar, double-bass and flute and female vocalists; Charlotte Andrew, Jenny Maslin and Poppy Alice. 2011/2012 has been a busy period for Paul and The Orchestra with successful tours to America and Germany and the release of a new live studio video on Youtube entitled Wasting My Time'. Paul recently supported Joan Armatrading at the Aylesbury Theatre leg as part of her UK tour.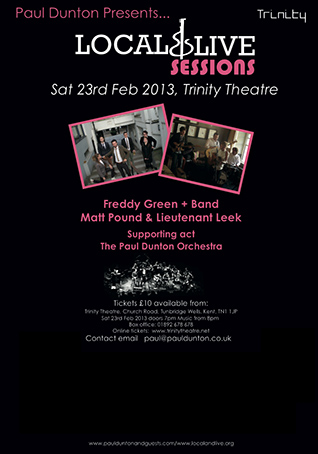 Publication date: 15 January 2013