The Local & Live Sessions - The Trinity Theatre, Church Road, Tunbridge Wells.
In an exciting new development Paul will be expanding his series of local music showcases in 2011. The venue is the stunning Trinity Arts Theatre in Tunbridge Wells. The 'Local & Live Sessions' will commence from March with regular shows planned for the duration of 2011 and 2012.
Paul is the organiser of 'Local & Live' Music festival which takes place annually on The Pantiles every. The shows will feature the headline acts from this year's festival and the leading headline acts from his 'Paul Dunton & Guests' roster.
Over a 6 year period Paul has developed an exemplary reputation for showcasing outstanding musical talent and his incredible roster is fast approaching 200.
Throughout the year, audiences will be able to enjoy performances from the likes of Intraverse, Origami Dinosaur, Tom Williams & The Boat, The Charlie Rivers Band, Dan Clews, Cyrano, Barney Jameson & The Hollow Men, The Violet Jive, The Paul Dunton Orchestra and many more. The standard of musicianship and songwriting on display is first class. Paul will be personally hosting each show which offer outstanding variety and value at just £10 per ticket £8 concessions (over 60 and U14's).
The first show on Saturday March 19th features performances from popular Tunbridge Wells bands Intraverse (www.myspace.com/intraverse) and Origami Dinosaur (www.myspace.com/origamidinosaur). The Paul Dunton Orchestra (www.pauldunton.co.uk) will be opening proceedings at 8pm.
Paul says "Intraverse and Origami Dinosaur are without doubt two of the best live bands I have ever seen. They both have their own unique style and captivating stage presence, delivering brilliant songs and breathtaking musicianship. I am delighted they are performing at the first Local & Live session on March 19th."
Tickets £10/£8 available from: The Trinity Theatre, Church Road, Tunbridge Wells, Kent TN1 1JP
Box Office: 01892 678 678
Website: www.trinitytheatre.net
Contact: paul@paulduntonandguests.com
All show details and bands also detailed at paulduntonandguests.com and localandlive.org.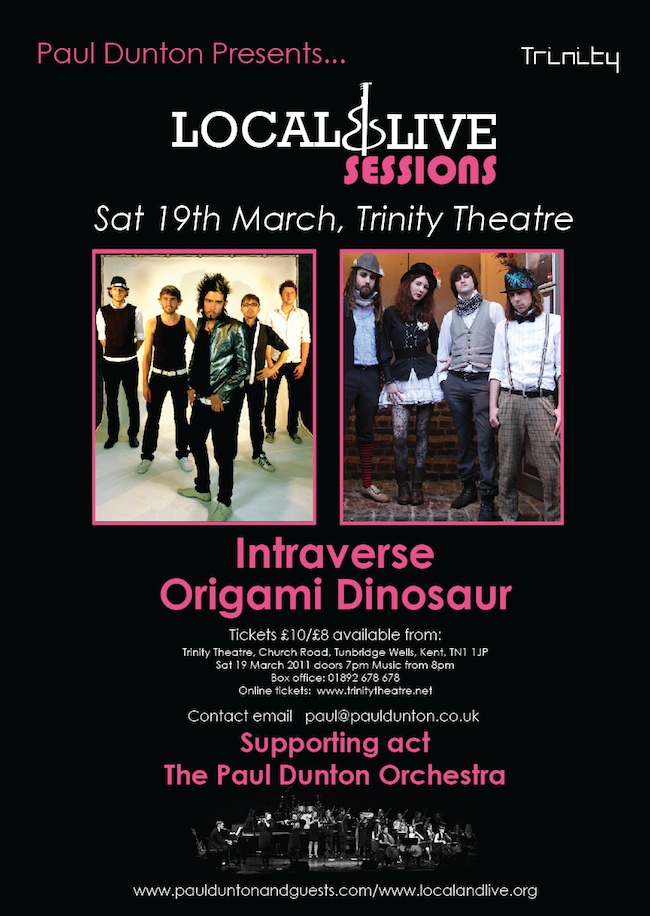 Publication date: 02 February 2011