Brittens Music Tunbridge Wells live - "In-Store" concert, Thursday 18th November 2010
Brittens Music, located in Grove Hill Road, Tunbridge Wells, has joined forces with local musician and composer Paul Dunton to present the store's first ever live concert.
The shop's Manager, Chris Davis commented 'We warmly welcome everyone to our first "in-store" concert. It promises to be a fantastic evening and will be completely free of charge. I am delighted that Paul has agreed to perform; he is a well-known local composer, and his contemporary classical style reaches out to a wide audience, which sits well with the nature and ethos of our store. Paul will be playing one of the shop's pianos alongside his fantastic ensemble of cellos, violins and flute. We will also be providing complimentary soft drinks and nibbles, and everyone attending will receive a discount voucher for use at Brittens. Coincidentally, the evening also happens to tie in with the switching on of the Christmas lights in Tunbridge Wells!"
Paul Dunton said 'I can't wait to perform at Brittens Music for their inaugural show. We hope to attract as many people as possible and will be playing a range of instrumental pieces in addition to a varied mix of songs. The new material carries influences from classical composers such as Samuel Barber, Michael Nyman and Rachmaninov, to popular artists such as Zero 7, Ben Folds, Aqualung and Pink Floyd. I would like to thank Chris Davis and Kim Thornewell of Brittens Music for inviting us to play. I feel very lucky to have the chance to perform on one of the shop's many beautiful pianos'.
Doors open at 6.15pm, with the live performance running from 6.45 to 7.30
01892 526659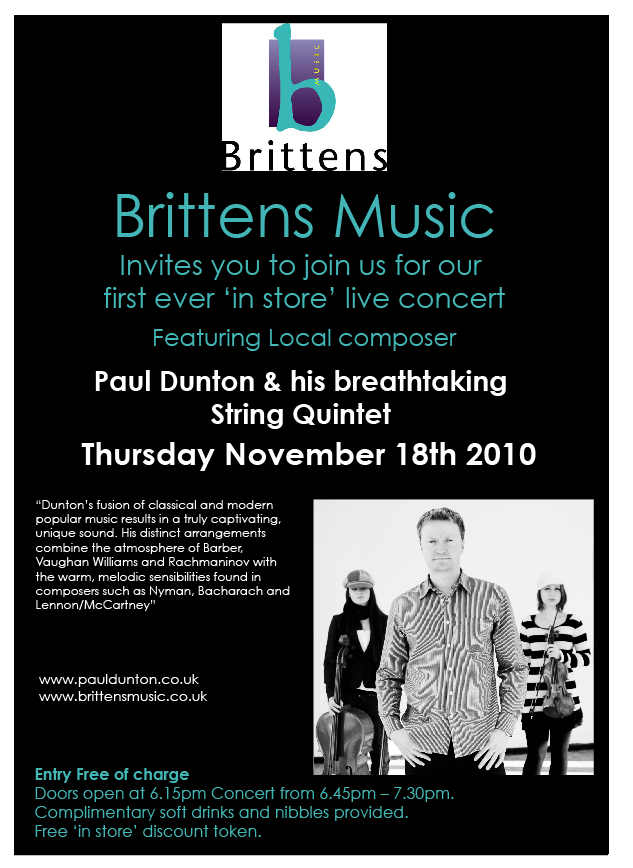 Publication date: 31 October 2010