Pizza Express Maidstone, Thursday 19th December 2019
Doors 6.45pm Music from 7.50pm
Pre booking only Tickets are just £7 on 08456027017 or online.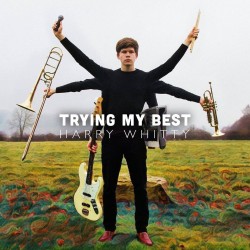 click to enlarge
Harry Whitty is a 17 year-old singer-songwriter and multi-instrumentalist. He grew up learning the piano and singing, then picked up the trombone at age 9. He started listening to jazz at around age 13 and, after hearing multi-instrumentalists like James Morrison and Jacob Collier, was inspired to learn as many instruments as possible and picked up drums, electric bass, trumpet and euphonium at around age 15.
His songwriting is inspired by many different artists such as Oli Rockberger, Theo Katzman, Jamie Cullum and Steely Dan. His debut EP entitled 'Trying My Best' features 5 original songs on a variety of topics, On the EP, Harry plays all the instruments as well as performing all the vocals. He can often be found gigging around Kent and London along with his band. He also works frequently with other songwriters such as Roberto Picazo. His second EP is due for release early 2018.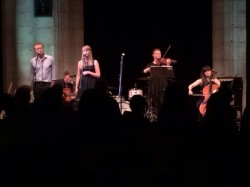 click to enlarge
Singer-songwriter, Paul Dunton leads his own unique cross-over orchestra providing an atmospheric fusion of alternative and pop with a classical twist. Paul & his Orchestra take influences from varying modern day artists such as Pink Floyd, Elbow, ELO, Turin Brakes, Massive Attack, Damien Rice and contemporary composers such as Samuel Barber, Ludovico Einaudi, John Barry and Hans Zimmerman. The Orchestra performs Paul's own compositions and a varied selection of uniquely arranged standards from a wide range of artists. The line-up of 8 violins, 4 cellos, guitar, flute, bass and percussion accompanies Paul on vocals and piano, joined by his lead vocalists, Charlotte Andrew and Poppy Raine. Paul and his Orchestra regularly perform at concerts, festivals and private events throughout the UK and internationally, including headlining the Theatrium Wilhelmstraße Festival in Wiesbaden, Germany and an 8 state tour of the USA which culminated in a spectacular roof-top performance on top of the New York Strand Hotel. Increased attention and success led to the orchestra being featured on BBC Radio 2 by Joan Armatrading with interviews and airplay of one of Paul's songs, 'Don't Forget'. This led to Paul supporting Joan Armatrading on five occasions during her recent UK tours.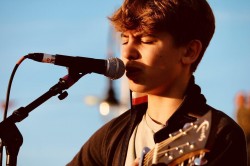 click to enlarge
UK singer/ songwriter Xavier Ralph is described as the soulful pop voice of this generation. This incredibly gifted singer, multi-instrumentalist and songwriter offers a breath of fresh air to the world of popular music with his incomparable sound and style.

Born and raised in Sussex, UK; Xavier wrote his first song at the age of 10 and has gone on to become one of Hastings' most loved and talked about young artists. His career began as a busker, and following many successful years of performing on the streets and in Hastings' vibrant local venues, Xavier signed with Kent based independent record label Uprise Records UK, and the 4th May 2019 marked the release of his self titled debut album.

"Brilliantly talented and articulate"
Dominic King, BBC Radio