The Grey Lady Music Lounge, Wednesday 31st July 2019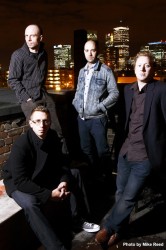 click to enlarge
Originally formed as a three piece back in 2001, indie rock band Cyrano soon became a foursome with the addition of lead guitarist, Karl Barton. From this moment on, their sound was born. With influences from bands like Pearl Jam and Elbow, Cyrano have crafted a unique blend of thoughtfully written songs, rock guitars and Tom Yorke-esque vocals resulting in a hugely melodic sound. The band are currently recording their second album in Assault and Battery Studios in London. Their first album "I, You, Us, Them" is available to buy on CD and iTunes. The band's line up is Joe Ackerley on Vocals and guitar, Matt Wilson on drums, Tim Hubbard on bass and vocals, and Karl Barton on lead guitar.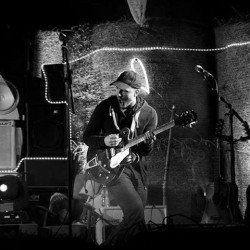 click to enlarge
"Steffan James, a singer songwriter with a great voice for blues and acoustic music" - Wild Acoustic.com "Music that makes you feel something" - Best of British Unsigned
Steve "Steffan James" McCormack, a South London-based singer songwriter, found his sound travelling the USA. Heavily influenced by the blues and acoustic world of California, he has toured the world as a guitarist, singer and songwriter for many an act. In late 2012 he started work on his own solo project.
The first two singles "Inside Out" and "She Knows" gained a lot of independent radio play in The States and across Europe and his debut album "The Truth" is available on iTunes.
He has been touring relentlessly across the UK gaining supporting and accompanying musicians, sharing the stage with Josh Doyle, Joan Armatrading, Charley Blue, Bela Takes Chase and many others. His new ep is "Barricade", featuring an amazing live band of musicians, Charlotte "Charley Blue" Andrew, Steve Bassett, Andrew Vickery and Ashley Rushman.
Hitting the road again in 2015; keep your eyes peeled.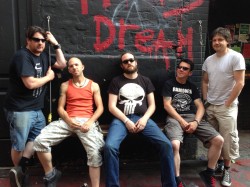 click to enlarge
All The Above was formed in 2011, with influences that include Helmet, Tool, Soundgarden, Pearl Jam. Over the past four years they have played many gigs and festivals. They have recently been in the studio recording their second E.P, which will be available in the next few months on Battle Royale Records.
This however will be the first time they have ever played their songs acoustically live!
The band comprise of James, Bruce, Simon, Paul, Si