The Grey Lady Music Lounge, Sunday 7th July 2019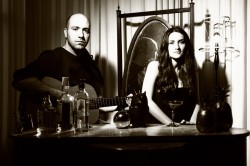 click to enlarge
It is a year now since Cyrano's Joe Ackerley teamed up with his sister Alice to form 'The Ackerleys' as a side line - turned major project! Already they have a fast-growing repertoire of folk/pop tunes, some light and uplifting, some moody and soulful, but all featuring close harmony, strong chord structure and catchy melody. Joe employs his prodigious song writing skills and his own rich baritone to complement and showcase Alice's striking voice. Joe's roots are in rock music as is well known to many of on the TW music scene, his deep seated influences an unusual mix of Pearl Jam/ Radiohead/ Elbow/Crowded House/Jeff Buckley. His sister Alice, just turned 17, provides a more contemporary vibe – Laura Marling, The Staves, Florence and the Machine, Emmy the Great, Marina & the Diamonds. The result is delightfully different - but judge for yourself. The dynamic duo has now added lead guitar and drums in the form of Steve McCormack, and Matt Wilson.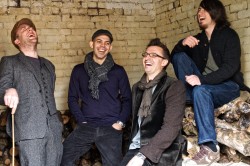 click to enlarge
The Good Ship Band is a rock pop four piece from Tonbridge, Kent, UK. Formed in March 2009, the band have sold over 1000 copies of their debut album, released 6 singles, supported Keane, and have received 11 record deal offers to date; testimony to their relentless gigging throughout the South East and two irresistibly melodic albums. Propelled by the songsmithery of frontman Jez Harley and guitarist/signed songwriter Ed Bingham (NorthStar Music), the band's recent airplay has drawn comparisons with Fleet Floxes, Paolo Nutini and Kings of Leon.
With top bassist James Elliott and session drummer Simon Whiting completing the line-up, the band's live reputation has resulted in the act being sought out by all corners of the industry. Following a flood of offers, TGSB were approached by video-makers Blindeye Films (Sigur Ros, Bryan Ferry, Eliza Doolittle) and the two parties collaborated to produce a stunning promo for live favourite 'Hometown'. With such momentum, the band released 'Boomerang Girl' followed shortly by the eagerly anticipated second album, 'The Good Ship Band - Part 2'. Part 3 is already on the way, with more live shows booked and recording dates in the pipeline.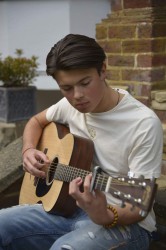 click to enlarge
Teddy Trenowden is an 18 year old singer-songwriter from Sevenoaks. He started singing chorally at the age of 6 and still sings in Choirs as a countertenor, as well as delving into the world of musical theatre. But, after starting the guitar aged 13, he's developed into a new style of music, a self-styled fusion of indie and pop.
His songwriting is influenced by artists and bands such as Elliot Smith, Rex Orange County and Half Moon Run and he has thus far released two E.P.s, "Blue Skies" and "Don't Let Me Down" and has performed in events such as last year's Local and Live on the Main Stage.