The Grey Lady Music Lounge, Sunday 23rd December 2018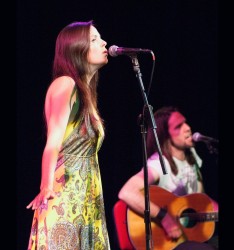 click to enlarge
Formed in 2010, Kent based folk/country artists The Breretons are set to emerge on the London music scene this year with a string of live dates and a debut album scheduled for release in the Autumn. Born from the ashes of London based rock outfit The Original Sinners, the brother/sister duo Marc and Charlotte are returning to their folk roots, playing heartfelt story telling songs of rare poetic quality. Their haunting harmony vocals are accompanied by Alex Metcalfe (piano), Kirsty Mangan (violin), Jim Cox (drums) and Pete Clements (bass).
click to enlarge
Tunbridge Wells based singer/songwriter Barney Jameson recently enjoyed an excellent debut at the recent Local & Live Music festival on the Pantiles Bandstand. Barney's recent return to performing live brings to and end a gap of seven years. Barney's atmospheric style mixes frank, honest lyrics with classic, emotive melodies woven around his versatile, haunting tones, influenced by artists such as Jeff and Tim Buckley and Ryan Adams. Barney has enjoyed numerous performances in 2007/2008 at the 'Paul Dunton & Guests' evenings at The Grey Lady Music Lounge and has already established himself as one of the most engaging soloists at the show. In a previous life Barney was the singer in a band called Sugarstone, with whom he performed all over the South of England. Then he went bald.
(TBC) Ant & Fie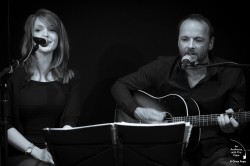 click to enlarge
To be confirmed.
Chiddingstone based duo Ant & Fie are Anthony Vicary (guitar and vocals) and Fiona Keeler (vocals & Piano.) Anthony was previously the frontman of local indie/rock band 'Catching Flies'. After five years of rigorous performing all over the southeast it was decided that the band had reached a natural end leading Anthony to put down his electric guitar and explore the acoustic side of rock music. With Fiona joining more recently, this talented duo have fused together to emerge as one of the most talented and highly respected acts at the show here at The Grey Lady. Their breathtaking vocals express creative and thought provoking lyrics coupled with crafted melodies which comprises elements of folk, blues and alternative acoustic rock. The duo enjoyed their radio debut earlier this year with a recent live performance of 'Tobacco Stained Guitar' on BBC Radio Kent. They have just released their debut EP entitled 'The Quiet'.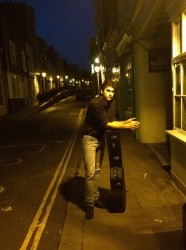 click to enlarge
Rob Picazo is a Rhythm & Blues singer and guitarist born in Madrid and based in the South East of England. He combines soulful vocals, relatable lyrics and bluesy melodies, all the while influenced by great Soul and Blues performers such as Sam Cooke, Ray Charles and Dan Penn. Following a two month trip through the South of the US, filming a documentary about roots music, Rob has played in popular venues throughout Sussex, Kent and London, and opening for great artists such as Gwyn Ashton, Brooks Williams, Martin Harley and Dom Pipkin. His first album, Spanish Moss was released on the 29th of September 2017.