The Grey Lady Music Lounge, Wednesday 27th June 2018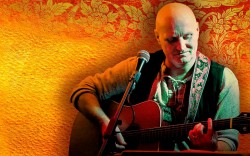 click to enlarge
Paul Prem Nadama is a heartwarming singer, songwriter and guitarist. His relaxed acoustic soul and contemporary folk tunes carry a new-age, conscious message that resonates and touches the hearts of many people, on any size stage. Paul often describes his intimate performances and workshops as 'Melodies, Mantras and Moments', a concert or gathering where audience singing is welcomed. He performs either alone or with a small band often featuring top violinist Lizzie McKonkey or super Sax player Simon Taylor. His style is reminiscent of boyhood inspirations James Taylor, and Paul Simon. Paul Prem Nadama received his (Sannyasin) name from world-renowned Mantra singer and sacred songwriter Miten at the Gayatri festival in 2016. Paul has since gone on to play at Edinburgh Fringe, Tribal Earth, Brighton Fringe and in 2016 performed at a World Consciousness Symposium. In 2017 a tour of retreat centres in Holland and Corfu was a great success and more will follow in 2018.
He has played support act for the 'Commitments' and his biggest 'claim to fame' is to have accompanied pop diva Katrina singing her smash hit 'Walking on Sunshine' !

click to enlarge
Cracks In The Land are a band with a love of tight grooves, 3 part harmonies, big melodies and guitars. Their influences meander from Fleetwood Mac to Crowded House, detouring to make no two musical journeys the same.

The band formed at the end of 2013, had a few lineup changes, produced an E.P. "Beautiful Parade", supported Cutting Crew, appeared in several festivals, radio and played gigs in London and Berlin. In 2014 with the arrival of Bill and Ben :), on guitars and percussion the sound was complete.

With a big bag of original songs, they will be recording early in 2016 but at the moment are having a blast gigging and experimenting with live sound.

Check out our facebook page to keep in touch with upcoming gigs and random classic cover versions.

Cracks In The Land are Bob Melrose - guitar,vocals, Meya Rein - vocals, Ben Armstrong - percussion,drums, Bill Burke - guitar, vocals.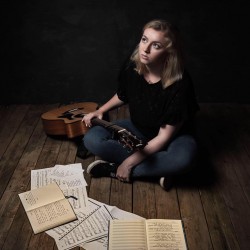 click to enlarge
Songwriter, singer and guitarist. Recording music under record label 'Lucky Boy Records'.
Single 'Nice' produced by Tom Gulliver, was released in February.
Debut EP 'How to Lose You - EP' is out now, featuring that single and three other tracks. Here is what Rachael had to say about this EP:
"This summer for me has been probably the worst I can remember for mental health and unhappiness with who I am and where I'm at in life. But one thing that has stayed constant is my love for writing and making music. So being able to spend a whole day in the studio creating music was a serious dream come true. Every song on this EP explains some of the feelings I held in my heart at some point these last couple of months. There's a lot more music that's come out of this but I'm not quite ready for everyone to hear those quite yet. So for now here's a little piece of me that I hope resonates with you."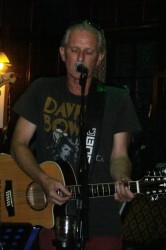 click to enlarge
Recently to be found playing in and around T. Wells as frontman with The Harveys, this is Peter's first ever solo venture.
His previous bands include SW3, Sweetheart, Transformer, Citron, The Red Guitars and The Flagmen.
The solo show will draw from all these previous bands as well as new unheard material.
With genre influences from folk, country, punk and pop the song is always key.
Peter is currently putting a new band together to back this project.