The Grey Lady Music Lounge, Wednesday 9th May 2018
Infrared are a newly formed band from East Sussex that have been playing since their first gig at the Bedford in London on September 22nd. Their music is very diverse and is influenced by artists such as David bowie, Queen, Muse and many more. The songs are written by lead singer, Lachlan Daly who is currently in his 2nd year of a Songwriting Degree at BIMM London. The lead guitar parts are written by Jimmy Latham who has been studying guitar since he was 7. The rest of the band consists of Will Buss on Drums and percussion; Cameron Preece on Bass guitar; Tass Alder on Backing Vocals and Kaitlyn Johnson on Keys. Their music has a very big sound with influences of Rock, Folk and Musical Theatre.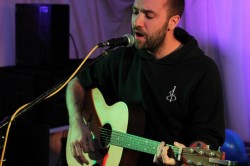 click to enlarge
Joe is the singer-songwriter behind popular local acts "Cyrano" and "The Ackerleys". His style combines rich vocals, poignant lyrics, catchy melody and folk/rock acoustic guitar. At the end of 2012, Joe toured with Level 42 backing Dan Clews. This included playing to full house at the Royal Albert Hall! He has just finished an album with Cyrano which will be released this year. He is also busy working on The Ackerleys first record. His solo set includes some brand new material plus a few stripped down Cyrano songs. Influences include – Elbow, The Beatles, Dawes, Jeff Buckley, Rufus Wainwright, Scott Matthews, Pearl Jam, Crowded House and Radiohead.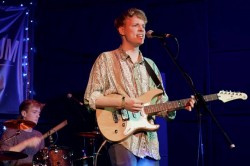 click to enlarge
Martin is the front man in this thing called The Floodgates, which is very exciting and he strongly encourages you to give that a listen when you next can. Yet when his band mates are busy, you can find him roaming the streets desperately trying to feel relevant, playing a collection of band and solo tracks which can be found online, with a raw passion beyond his years.
Between working on The Floodgates debut EP, second tour and having a number of festivals all booked for 2016; Martin is living his lifelong dream of being a full time musician, which you can clearly see in his live shows.
Debut EP 'Paint' out Summer 2016.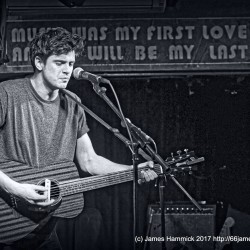 click to enlarge
"An undiscovered talent and a debut to beat all debuts'"
Genius Babble Music
Jon Grayson is a singer-songwriter from the Medway Towns in Kent.
Raised on a steady diet of The Police, City and Colour and Fleetwood Mac, Jon moved to London in 2014 and spent two years honing his songwriting and building a following by playing gigs in every corner of the capital as well as his home town.
In 2016, whilst playing at The Garage in Islington, Jon met producer Jack Watson (Jack + Ella, Changing Colour) and the two formed a relationship and spent the next 18 months writing and building a palette of sounds to start making music.
The Stranger EP is the first product of that time spent on stage and in studio and contrasts a sleek, exciting mix of pop hooks with honest, engaging and often very personal lyrics. These are showcased by Jon's voice which was picked up by BBC Radio Kent's Abbie McCarthy, who first aired the single.
"Stranger hooks you to Grayson's flowing vocals as the sound twists and turns around his poignant outcries"
InQuire Media