Pizza Express Maidstone, Thursday 22nd June 2017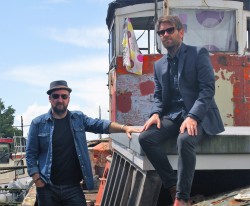 click to enlarge
Mashville is a UK alt-country / Americana band with a wide range of influences ranging from Johnny Cash to Wilco and The Jayhawks.
"Absolutely beautiful song (Fool's Gold) - I can't suggest anything to improve it" - Chris Difford (AMA UK Songwriting Workshop 2016)
"A group that's essential to see and hear" - Eagle Radio (France)
"This is a very talented band which is worth watching" - Maverick Magazine (UK)
"This band just get better and better live - just awesome" - The Windmill, Home of Great Live Music (UK)
"Fantastic album.....Fantastic in its breadth.....full of real 'growers'....." - United Sounds of Americana (Scotland)
"every song contains beautifully written and often quite riveting stories that range through the various aspects of love and life but in a variety of incredibly diverse circumstances and locations". Americana Roots UK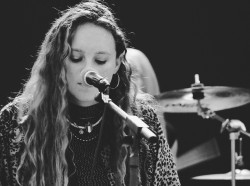 click to enlarge
Having music in my life is one of the most important things to me. I feel like it's a very stable source as I can always sit at the piano or even tap my foot to a beat in the middle of a math lesson. I started piano lessons when I was 7 and put my voice into training when I was 11 and in the last year or so I have started to teach myself the guitar. From a young age it has been a continuous process as I have developed my sound as an artist and as a songwriter. Creating my own music and lyrics is central to the reason why I love it, as it allows me to communicate my emotions and properly relate to a situation in life. My main influences are Amy Winehouse, John Mayer, Tom Odell, Michael Jackson and Johnny Cash. I have grown up listening to their voices and that has molded me into the artist I am today. In the future I am keen to develop my sound by carrying on performing and writing and I hope to collaborate with other musicians and form an exciting new band.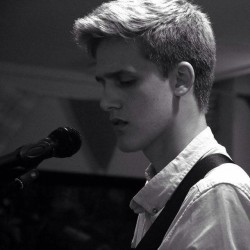 click to enlarge
I have been playing the piano since I was eight and started learning the guitar two years ago. As I improved I found the courage to sing, freeing my passion for writing music. I have an interest in all kinds of music which has helped develop my writing style and I find it very satisfying when I can incorporate and fuse genres together. My sound is mainly acoustic. However I am slowly learning to use a loop station to build more variety into my tracks. I feel that my style of singing is heavily influenced by rock and musical theatre. Although I don't sound like them, Muse are a big influence in my songwriting and are a great inspiration for me. I am currently taking the Diploma Songwriting course at BIMM London followed by the Degree course in September. I have been an onstage performer since I was nine and have performed many solo and band gigs at local venues, school concerts, fairs and my local Diner. I am currently rehearsing in a band for the musical "Grease" in which I play the guitar.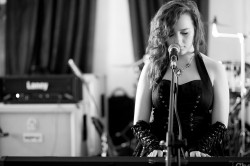 click to enlarge
At the tender age of just 15 years old, Charlotte Rose Ellis shows maturity in her songwriting and performances that many older artists envy. Initially trained since the age of 5 in musical theatre, Charlotte has developed her passion as a singer/songwriter and pianist over the past two years. Charlotte enjoys a broad range of music, from Adele and Taylor Swift through to Evanescence and Alter Bridge. Charlotte has mostly been inspired and likened to Tori Amos for her unusual covers and original music. Charlotte's vocal has a haunting quality that leaves audiences wanting more. She has performed in venues from Margate to Aylesbury, but mostly in the Medway towns and Maidstone including the Brook and Central theatres in Chatham, Rochester Castle and Hazlitt theatre in Maidstone. Charlotte is delighted to be performing at the Grey Lady and looks forward to sharing her music with you. In the meantime, you can find out more about Charlotte at her website.