The Grey Lady Music Lounge, Sunday 18th June 2017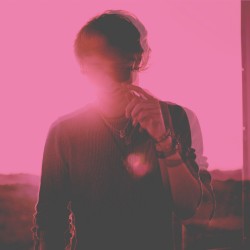 click to enlarge
FØNX studied music at The Brit School and has been on his musical journey since, writing and producing his music and gigging around London, South East and playing festivals including Barn on The Farm, LeeFest, Cornbury Festival and Isle Of Wight Festival. With previous songs played by Huw Stephen's Radio 1 and Tom Robinson Radio 6 and support from BBC Introducing, FØNX has taken a new musical direction over the last year.
Having signed to Intune Addicts (Management) & ATC (Booking) and with more collaborations to follow, FØNX has recently been in the studio recording new material with Grammy Award-Winning Producer Tommaso Colliva (Muse).
FØNX debut single 'Hit Me Hard' is now available on all digital platforms and Hit Me Hard EP is now available to purchase as limited edition exclusively at FØNX shows.
Influences include - Frank Ocean, D'angelo, Kanye West, Childish Gambino, Tame Impala and many more.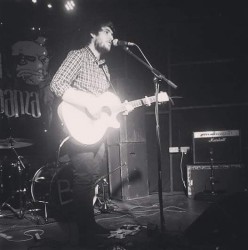 click to enlarge
Paul Monham is a self taught guitarist and singer/songwriter from Kent. Although Paul has been a member of the alt. rock band The Lucky Andersons for several years, his solo material is relatively new. That said, Paul has had plenty of experience playing in a live enviroment having performed all over the south east of England and London. Inspiration for his songs is drawn from several different genres - from brit-pop to hip-hop - and he sometimes uses a loop pedal to give his live performance a fuller sound.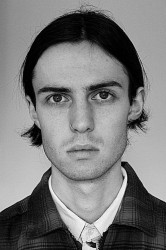 click to enlarge
Declan Foster is a singer and songwriter who has been writing and performing for around 5 years. With a wide vocal range complemented by guitar and piano he plays songs with a wide range of influences, from classical to hip hop, metal to folk. 2014 finds him honing his sound and style with more focus than before with a full set of new material and a more varied and energetic live performance.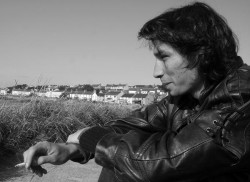 click to enlarge
Raised by pack animals in the south, Gronk was subsequently stationed in the Home Counties where he studied for A-Levels in navelgazing before escaping to London. He found moderate success with gothic psych-rock band Carnival of Souls in the early noughties, before meeting near-indifference at a handful of solo gigs in Brixton. A trip to the US followed, during which he discovered the marimba and returned to form the Body Doubles, a shambolic rock 'n' roll act currently limping around London's sawdust venues. Gronk writes folk and rock songs bolstered by a healthy dose of gallows humour, and appears tonight with Body Doubles lead guitarist Claud "the musket" Musker.